This is the second of two posts aiming to help Australian lawyers seeking admission to practice as foreign lawyers in Papua New Guinea (PNG). The first post provided an overview of the PNG legal system and its links to Australia. This (second) post provides resources for Australian lawyers sitting the PNG foreign lawyer exams.
As I said in the first post, these posts are not intended to be exhaustive and, of course, the situation and law will change so exercise caution in relying on them. My aim is simply to provide resources that I would have found useful before sitting the PNG foreign lawyer exams. I sat the foreign lawyer exams in early 2019, so the information is current at that time.
As a general reference, Pauline Mogish's article, "Rights of and procedures of admission in South Pacific countries" (2013) Journal of South Pacific Law, provides a helpful overview of admission requirements for local and foreign lawyers in PNG, Fiji and several other South Pacific countries.
Overview of PNG foreign lawyer exams
If you are an Australian lawyer seeking admission to practice in PNG you will need to sit three exams to fulfil the requirements for admission under the Lawyers Act 1986 (PNG) and the Lawyers Admission Rules 1990 (PNG).
The three exams cover the following topics:
PNG Constitutional Law;
PNG Land Law; and
PNG Customary Law.
There are no course materials for you to study (at least as far as I could determine) and only a short (1 page), vague reading list is provided by the PNG Law Society to prepare for the exams. Here is a copy of that reading list (link).
Before I sat those exams in early 2019, even with the help of a PNG law firm in Port Moresby and their interns who were law students at the University of PNG (UPNG), I found it difficult to find copies of past exams and even to work out if the exams were open book, closed book or something in-between.
I thought it would be helpful for other Australian lawyers planning to sit the exam to provide copies of the exams and some guidance on preparing for them.
The exams are offered twice a year by the PNG Law Society and are held over two days at the UPNG in Port Moresby. You will need to travel to Port Moresby to sit the exams.
The three exams are held over two days. Each are three hours long, so two are held on one day and the third on a second day.
It is worth sitting all of the exams at once rather than stringing them out. A colleague who sat the exams with me said that people often ask her about this. While 6 hours of exams on the same same day is challenging, it is certainly manageable, particularly as the subject matter is so interlinked.
When I sat the exams with four other Australian lawyers at UPNG in early 2019 the instructions we had been given beforehand (in the recommended reading materials), said the exams would be closed book but when we arrived (all of us with annotated notes and books), we were allowed to sit each of the 3 hour exams as open book. This seemed to be decided by the staff member on the day, so I would suggest going prepared to sit either an open book or a closed book exam.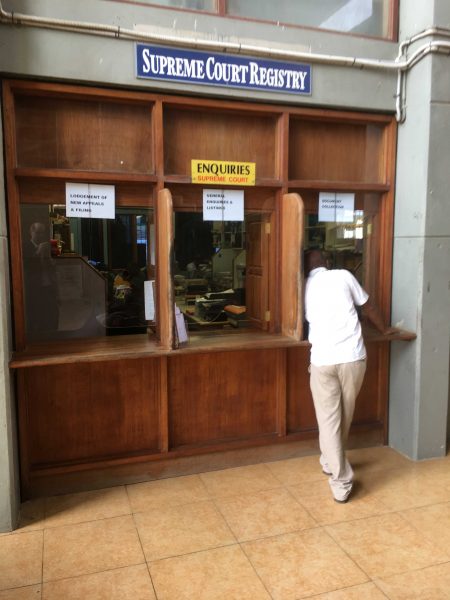 Copies of the 2019 exams
Compounding the problem for preparing for the exams that no course materials were provided, my instructing solicitor in PNG and my own research before sitting the exams were unable to locate copies of past exams for foreign lawyers. My instructing solicitor in PNG obtained past copies of exams on PNG constitutional law, land law and customary law for (internal) students at UPNG.
I took copies using my phone of the three foreign lawyer exams in early 2019 and, while they have some highlighting and my own annotations made during the exam and are a little blurry, here are those copies:
Sorry they are a little blurry. I originally only took copies for my own records but I later realised they would be helpful for others.
Textbooks
Before sitting the exams, I also found it difficult to find good, recent textbooks to study for the exams. I had the advantage of access to the law library at The University of Queensland but even it had fairly limited material.
Here are the best textbooks that I found (and I took copies of them into the exam):
Rudolph W James and John Y Luluaki, Introduction to the Legal System of Papua New Guinea (Melanesia Law Publishers, Port Moresby, 2011) – I found this a good, introductory textbook.
Eric Kwa, Constitutional Law of Papua New Guinea (UPNG Press, Port Moresby, 2001) – this is a very helpful textbook and I couldn't find a more recent book on the topic.
HA Amankwah, JT Mugambwa and G Muroa, Land Law in Papua New Guinea (LBC, Sydney, 2001) – again, a useful textbook even though a little dated.
Rudolph W James, Law of Land Administration and Policies of Papua New Guinea (Melanesia Law Publishers, Port Moresby, 2011) – I found this a very useful textbook.
David Gonol, The Underlying Law of Papua New Guinea (UPNG Press, Port Moresby, 2016) – more a casebook than a textbook but still helpful.
Legislation
In terms of key constitutional documents and legislation, I took a folder with the following Acts and report in hardcopy into the exam:
PNG Constitution 1975
Chapters 1 & 2 of the PNG Constitutional Planning Committee Report 1974
Land Act 1996 (PNG)
Underlying Law Act 2000 (PNG)
My folder had several other Acts in it (e.g. Interpretation Act 1975 (PNG)) but I didn't find myself referring to them during the exams, so I haven't included them in the list.
As it was an open book exam, I also went online for references to some other pieces of legislation on Paclii during the exam (using a hotspot on my mobile phone), but I would suggest assuming you won't have online access during the exam so take hardcopies of key documents.
Cases
In terms of cases, Paclii, is the best (and really only) source.
Three cases I found particularly useful to read and refer to in the exams (I took hard copies of them into the exam) were:
Somare SCR No. 4 OF 1980; in the matter of the Constitution of Papua New Guinea and the Hon. Michael Thomas Somare [1981] PNGLR 265 – a foundational case for PNG Constitutional Law and the Underlying Law;
Minister for Lands v Frame [1980] PNGLR 433 – a foundational case for PNG Land Law and Constitutional Law; and
Re Alleged Improper Borrowing of AUD1.239 Billion Loan [2017] PGSC 8; SC1580 – a useful case to cite for the principles for interpreting the PNG Constitution.
Also, a unanimous PNG Supreme Court decision on the principles of constitutional interpretation in PNG that provides a good, general reference on the principles for interpreting the PNG Constitution is Re Miviri [2019] PGSC 84; SC1852 (Kandakasi DCJ, Batari, Cannings, David and Hartshorn JJ) at [44]-[59].
A note of thanks to my solicitors
Before concluding, I must thank my solicitors Evelyn Wohuinangu of the PNG Center for Environmental Law and Community Rights (CELCOR) and Cecilia Fonseca of the Environmental Defenders Office (EDO) for all their invaluable help in gathering resources for the exams.
I sat the exams in preparation for acting in litigation against illegal logging in PNG, instructed by CELCOR and supported by EDO.
Conclusion
I hope these resources are helpful for you sitting the exams for admission in PNG.
If you have any questions that this short article hasn't answered, I am happy to talk about admission in PNG.
My mobile number is (+61) 0438299097.
Good luck with the exams!
Dr Chris McGrath
Barrister
Higgins Chambers, Brisbane
17 May 2020
Postscript on timeline (25 August 2022):
My admission to practice and grant of a practising certificate in PNG ultimately took over 3 years after I sat the foreign lawyer exams but that should not be typical because I had a 2-year delay due to the COVID-19 travel ban from 2020-2022. I would expect the normal timeframe would be 6-12 months from sitting the foreign lawyer exams to your practising certificate being issued by the PNG Law Society so that you can practice in PNG.
My key milestones were:
27 & 28 March 2019 – I sat the foreign lawyer exams on Constitutional Law, Customary Law & Land Law at UPNG.
24 April 2019 – I was notified by UPNG I had passed the foreign lawyer exams.
11 February 2020 – The PNG Attorney-General issued a certificate that I am a fit and proper person to practice in PNG.
23 September 2020 – my application for admission in PNG was granted by the National Court of Justice (this application was moved in my absence due to the COVID-19 travel restrictions at the time).
Early 2020 to late 2021 – the COVID travel ban prevented me travelling to PNG to sign the roll of lawyers and I was not permitted to sign the roll electronically or in the PNG Consular-General in Brisbane.
24 March 2022 – I travelled to Port Moresby to sign the roll of lawyers admitted to practice in PNG and the registry issued me with a Certificate of Admission.
16 August 2022 – the PNG Law Society issued my Unrestricted Practising Certificate (after several months of delay when national elections were held and the PNGLS did not meet).