This is the first of two posts aiming to help Australian lawyers seeking admission to practice as foreign lawyers in Papua New Guinea (PNG). The first post provides an overview of the PNG legal system and its links to Australia. The second post provides resources for Australian lawyers sitting the PNG foreign lawyer exams.
This first post is largely extracted from an article I wrote, "Identifying Opportunities for Climate Litigation: A Transnational Claim by Customary Landowners in Papua New Guinea against Australia's Largest Climate Polluter" (2020) 37 (1) Environmental and Planning Law Journal 42-66 (available at this link).
These posts are not intended to be exhaustive and, of course, the situation and law will change so exercise caution in relying on them. My aim is simply to provide resources that I would have found useful before sitting the PNG foreign lawyer exams.
Overview of PNG legal system and its links to Australia
PNG is a diverse country that shares many links to Australia, having been a former dependent territory of Australia until becoming self-governing in 1973 and gaining independence in 1975. While PNG's 7.6 million people speak nearly 850 languages, its three official languages are English, Tok Pisin and Hiri Motu.
The PNG legal system is based on the English common law system overlaid with extensive national legislation. A useful introductory text is Rudolph James and John Luluaki, Introduction to the Legal System of Papua New Guinea (Melanesia Law Publishers, 2011).
The best source for PNG legislation and case law is the Pacific Islands Legal Information Institute (Paclii) but be aware that the "consolidated" legislation has not been updated since 2009, so it needs to be treated with caution. A frustrating aspect of trying to find the law in PNG is that the Government of PNG and the PNG Parliament do not (at least at the time of writing) provide online consolidated legislation.
The PNG legal system incorporates PNG's customary laws to create a unique layer of the "underlying law" recognised in the Constitution of the Independent State of PNG 1975 (PNG) (PNG Constitution). The PNG Constitution is an amazing document (it has guaranteed fundamental rights like the right to life) and one of the most exciting parts of studying PNG law as an Australian lawyer.
PNG laws are written in English and the court system operates primarily in English.
Visiting the PNG Supreme & National Court of Justice complex at Waigani (Port Moresby) in 2019, the main lesson I learnt was that the proceedings mirrored what I would have expected in any Australian courtroom in terms of practice and address. I was impressed by the sitting judge hearing applications. He was engaged with the proceedings before him. He asked good questions and showed scepticism when dubious submissions were made, just as I would have expected from a judge of a superior court hearing applications in Australia.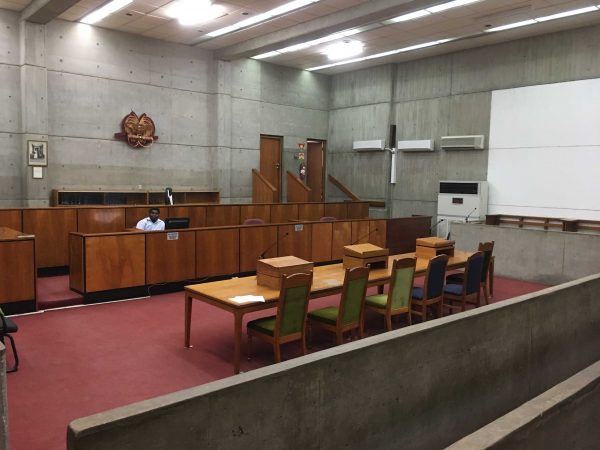 In studying PNG laws for admission to practice, I found many parts were like meeting an old friend because many of the laws were already familiar from practice in Australia. Many PNG laws are substantially copied from Australian laws, such as the Environment Act 2000 (PNG), which reflects an early version of the Environmental Protection Act 1994 (Qld).
Civil procedure, rules of evidence & statutory interpretation
The rules of civil procedure and evidence are very similar to those in Australia. Two very useful references are Dominic Katter, Robert Gordon and Erik Anderson, Civil Procedure in Papua New Guinea (LexisNexis, 2016) and Salamo Injia, Injia on Evidence in Papua New Guinea and the Pacific (UPNG Press, 2013).
Statutory interpretation in PNG is materially the same as in Australia and many other common law countries. A useful reference is Salamo Injia, Injia on Statutory Interpretation in PNG and the Pacific (UPNG Press, 2013).
Section 109(4) of the PNG Constitution provides:
"Each law made by the Parliament shall receive such fair, large and liberal construction and interpretation as will best ensure the attainment of the object of the law according to its true intent, meaning and spirit, and there is no presumption against extra-territoriality."
In Gari Baki v Allan Kopi [2008] PGNC 251; N4023, the Deputy Chief Justice Sir Salamo Injia, as he then was, said:
"The principles of statutory interpretation are settled. The Court must give effect to the legislative intention and purpose expressed in the language used in the statute. If the words used in the statute are clear and unambiguous, the Court must adopt the plain and ordinary meaning of those words. There is no need for the Court to engage in any statutory interpretation exercise. If the words are not so clear or ambiguous, the Court must construe the words in a fair and liberal manner in ascertaining their meaning and give an interpretation which gives meaning and effect to the legislative intention in the provision. The purpose of words or phrases used in question should be read and construed in the context of the provision as a whole. The Court should avoid a technical or legalistic construction of words and phrases used in a statutory provision without regard to other provisions which give context and meaning to the particular word (s) and phrases in question."
The PNG Supreme Court unanimously endorsed the correctness of this approach to statutory interpretation in Salamo Elema v Pacific MMI Insurance Ltd [2011] PGSC 9; SC1114, [23]–[24] (Salika DCJ, Cannings and Gabi JJ).
Sitting the foreign lawyer exams
In the second post in this two-part series, I'll provide resources for sitting the foreign lawyers exams.
Posted by:
Dr Chris McGrath
Barrister
Higgins Chambers, Brisbane
17 May 2020