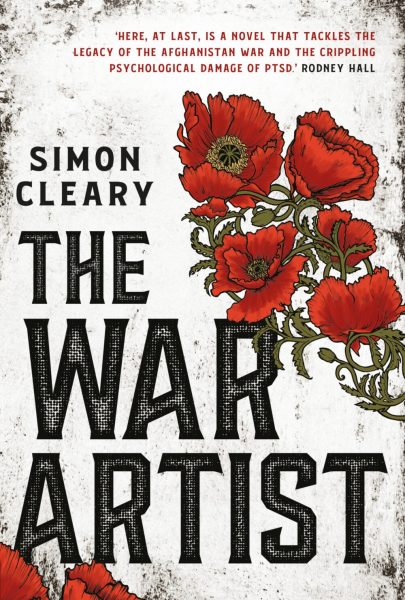 Simon Cleary conducts a busy practice at the Queensland Bar. He is also a busy family man doing his fair share, with his wife, Alisa, of raising his two active and enthusiastic sons, Dominic and Liam to all three of whom The War Artist is dedicated. Rather, incredibly, Simon has just published The War Artist, his third novel through University of Queensland Press. I stand back and think how is that even possible.
Cleary's first novel, The Comfort of Figs, published in 2008, weaves a complex narrative joining stories of love and tragedy surrounding the construction of Brisbane's famous Story Bridge in the late 1930's and stories of love and activism involving a young man working as a botanist in "change of millennium Brisbane".
In 2012, Cleary published his second novel, the equally complex Closer to Stone, a story of two brothers, the one who disappeared in north west Africa, and the one who went to search for him. As Comfort links stories across time, Closer links the rigours of north Africa to the fictionalised Helidon and the stone masonry business in which the two young men had grown up.
Seven years of early rising and thousands of unrelenting hours of work later, Cleary has completed The War Artist and it has hit the shelves.
The War Artist displays Cleary's continuing interest in big narratives tackling big themes. The big themes, however, express themselves most clearly amid the ordinariness of daily life and the challenges of human relationships. So it is in life. So it is in Cleary's novels. And Cleary's novels stretch out and embrace the wide world. But his characters find an anchor in those parts of south-east Queensland with which they and Cleary are familiar: Brisbane, where Cleary lives and works and writes and Toowoomba and its environs, where Cleary, the son of one of Toowoomba's leading solicitors, grew up and went to school.
The War Artist revolves about James Phelan, a brigadier in the Australian army, serving in Afghanistan. Phelan makes one of those decisions about which it is never clear whether the decision was made in one's own interest or, as one thought at the time, for the benefit of others and the greater good. Phelan decides to go on patrol so that he can understand the impact on soldiers in his command of the decisions he makes and the demands he places upon those soldiers. Tragedy strikes and Phelan sees close up the blood and chaos of war on the ground.
Phelan does all the right things. He accompanies Sapper Beckett's body home to Australia. He speaks to Beckett's parents. He tells them how sorry and grateful he and the Australian Army are for their son's sacrifice.
Phelan does something further, something uncharacteristic. Before leaving Sydney, he decides to get a tattoo, Sapper Beckett's full name, an indelible reminder, tattooed on his shoulder. He intervenes when Kira, his female tattooist, is attacked by a drug affected friend of one of her friends. And the bond of saving a person from a violent attack leads to a deeper, albeit transitory, bond. Phelan returns to Brisbane to find that his wife, Penny, has undergone a tragedy of her own and faced it without troubling him when he feels that, perhaps, he had a right to be involved.
Phelan is more affected by Beckett's death, and his ambiguous responsibility for it, than he imagined at first and he never returns to active duty. He is diagnosed and treated for post traumatic stress and his recovery is slow and arduous. Phelan and Penny retreat to, and rent and restore to habitability, the family farm property of Phelan's childhood located on the lower ridges of the Toowoomba escarpment. Phelan finds some kind of return to health through the hard work of farm maintenance and in writing poetry, a by-product of his treatment for the stress disorder.
Domestic violence at home and the recollection that Phelan had kept her safe, once before, leads Kira, now with a seven year old son, Blake, to abandon her long term partner in Sydney and to seek out Phelan in Queensland. A beautiful young tattooist emerging from a clouded past promises difficulties of explanation, at the very least, and Phelan disappears back into an alcoholic stupor, a phenomenon that has become rare in his new life. This leaves the women to work it out, Blake and Kira are allowed by Penny to stay, for the moment at least, and a new status quo emerges. Phelan even asks Kira to tattoo him again, this time with poppies, and this is the genesis of Kira becoming the war artist of the title.
Cleary has chosen a description of a crying Odysseus for the epigraph of The War Artist. There are references, for example, to the many headed sea monster, Scylla, in the text. It is, perhaps, not coincidence that Penny shares her given name with the Penelope who waited patiently for Odysseus to return. Penny has no Telemachus to help her through her share of the pain of long separation.
It seems clear that The War Artist is also a tale of homecoming. The point seems to be that the things to be feared in a homecoming from war do not cease when one crosses one's own threshold. The many headed monster comes in many forms and waits within our own soul. There are pathways, nonetheless, which can be followed and Minerva, herself, can turn up in many forms and when least expected.
The War Artist is only 310 pages but there is nothing little about Cleary's novels. The War Artist fits the mould. The theme of experiencing war and finding peace is grand but the writing is empathetic and the relationships touch the reader's heart.
The journey home is a theme that continues to merit treatment by novelists and filmmakers alike. For me, Phelan's predominant experience was not homecoming as such but, rather, the search for atonement for barely detectable wrongs that, nonetheless, without atonement, would continue to haunt despite everything that might have since transpired. The War Artist is, perhaps, not a modern Odyssey. Rather, Conrad's Lord Jim is its precursor and Phelan's dilemma is closer to that of the eponymous character of Conrad's famous novel.
Stephen Keim
Brunswick Heads
12 August 2019
The War Artist is published by University of Queensland Press